WINNING PHOTO
Thursday, February 20, 2020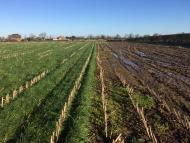 This was the winning photo in our Best Practice Maize Farming Photo Competition!
January 2019, Cheshire. Photo by Phil Campion, Agrovista.
Under-sowing done at 6 leaf stage of maize with Enviromax at 5kg/acre – a mixture of perennial ryegrass and tall fescue. As you can see the area where there is no cover is carrying substantially more water. The following season's maize crop was also poorer where the headland that did not had previously have cover crop, suggesting there were other improvements in soil condition with undersowing.
Phil won a place at our 2020 Conference in February. Keep your eyes peeled for the runner up photo and other entries in our publications and press throughout the year!