Seed Dressings
Monday, February 27, 2023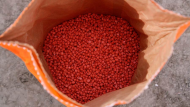 As reported at the MGA conference earlier in the month because of the regulations connected to Brexit, all pesticides used in the UK have to be approved on the UK Pesticide Register. This includes the seed treatments applied by the maize breeders in Europe.
This process takes a long time due to the data involved. So unless CRD approve the use of Redigo M fungicide, Korit 420 FS bird deterrent and Force 20 CS insecticide all of the maize seed for 2024 will have to be untreated.
We are therefore asking your help to lobby your local MP and the Minister of Food, Farming and Fisheries, Mark Spencer (mark.spencer.mp@parliament.uk).
A good start is to send them the letter written by the MGA, BSPB and NIAB included within this mailing, copies available electronically from the office. The letter details why the use of seed dressings is important for UK maize growers and why we are asking for help to get these pesticides registered on the UK register before the deadline of 1 Jan 2024.