One solution to starlings
Wednesday, January 11, 2012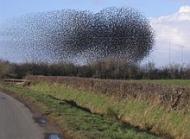 One of our Somerset members has passed on his experiences with starlings and how for the first time this year they have stayed away. Please read his note below. If any other members have had some success, please email the MGA Office and we will pass the idea on to other members with starling problems.
"For as long as I can remember we have been plagued with starlings in the winter. My hands used to hurt from clapping at them, my neighbours thought I was mad for shrieking at them (the starlings), I was in danger of shooting someone or my own foot until this year we have none (on the feed or the clamp) but they are in the fields in quite good numbers.
I knew that birds of prey would frighten them away some times so I have, over the last few years, added owl and kestrel box's to all of my buildings. In the last three years we have ringed and weighed fifteen kestrel chicks, we now have two resident pairs in and around the buildings. We also have at least two owls as well.
I can honestly say from having feed covered with starling s*hit, sick cattle occasionally, reduced intakes and some times more than five hundred kgs of maize knocked down from the clamp face, I have not seen one starling on my maize this year. They come and have a look some times but don't dare land!
I'm sorry that I was unable to attend your Starling day at Steanbow to share this story but perhaps you could pass on this information".