New MGA Maize Training Day Announced for September 2013
Wednesday, August 14, 2013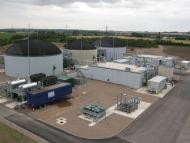 Following on from
the successful training days held during the spring of 2013 the MGA are holding
a follow up day focusing on:
Harvesting maize for forage and biogas

Methods of Dry Matter Assessment
Setting up the harvester
Cutting height of maize

Clamp management

Chop Length
How to fill the clamp
Consolidation of the crop
Sealing the clamp

Variety choice – based around extensive on farm variety trial

What are you looking for in a variety
Diseases associated with maize
Fungicide trial

Site tour of Severn Trent Biogas Plant
The course will be on 19th September 2013. It will commence at 10.00 am and finish with
lunch at 1.30 pm
Venue: Stoke Bardolf Sports and Social Club, Stoke Bardolph Village, Burton Joyce, Nr Nottingham NG14 5HT
Weather permitting the event will be very practical and held outdoors so suitable
clothing is advisable.
The MGA are very grateful to BASF for sponsoring the days refreshments.
Please fill in the attached booking form to ensure a place.
Downloadable Documents