MGA Nitrogen predictor form
Wednesday, April 4, 2012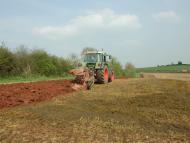 Variety choice made, the next thing on the maize 2012 list will be how much fertiliser will the crop need? With this in mind, we would encourage members to use the MGA Nitrogen Predictor to calculate their bagged fertiliser nitrogen requirements.
The Nitrogen predictor, originally designed ten or so years ago takes into account location, soil conditions, target drilling and harvest dates, as well as the nutrient content of any manures applied, to come up with a bagged nitrogen requirement for the crop. The predictor is well proven over time, with farmer feedback over the years being used to update the original research based systems.
The predictor has also been used by farmers to justify their nitrogen applications to NVZ inspectors and therefore, goes some way to meet the NVZ record keeping requirements. Fill in and return the enclosed N predictor input form to get the ball rolling.
Downloadable Documents
Nitrogen Predictor Input Form