MGA Conference, 13th February 2014 heads North to Dumfries,
Sunday, January 5, 2014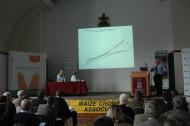 The MGA heads north of the boarder to SRUC, Dumfries for the 2014 MGA Conference which will be held on Thursday 13th February 2014.
As well as some excellent speakers, Hugh McClymont ,SRUC Research Farms Director and Chairman of the MGA will be showing delegates the work and research that is being done at the College Farm.
In order to make the trip more practical and enjoyable we have organised a Conference Overnight Package that includes Hotel B & B, dinner on 12th February, with Hugh telling us about his amazing trip to America and a whisky tasting tour, as well as a farm tour early on the conference day itself.
Delegates are of course welcome to come to just the conference if they desire.
The full programme, including a booking form is attached.
Downloadable Documents