Maize Carbon Challenge
Wednesday, August 4, 2021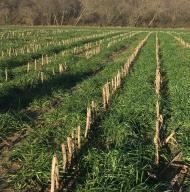 Background
The Government has a twenty-five-year plan which calls for slowly increasing levels of natural capital including Soil Organic Matter (SOM) and carbon storage. Sequestering carbon in the soil will help reduce carbon in the atmosphere and increased levels of SOM will lead to greater resilience in terms of water and nutrient retention, biodiversity, soil retention and crop yields.
The Maize Growers Association (MGA) continues to believe that maize, when grown in an environmentally sustainable manner, should be considered as part of the solution to ongoing carbon challenges. We remain convinced that the active summer growth of maize biomass will sustain and even increase levels of soil organic matter and carbon storage with this organic matter being retained within the soil if careful pre and post cropping management practices, including cover crops and minimum tillage are undertaken.
To develop the idea of Maize being part of the solution we, along with project sponsors Future Biogas, have devised a four-year challenge to demonstrate the benefits of a maize rotation when considering carbon sequestration. The purpose of this briefing is to introduce the MGA Carbon Challenge and to seek expressions of interest from those keen to become involved.
The MGA Carbon Challenge
The challenge will follow the progress of six regional teams, each led by a 'Carbon Champion', as they plan and action agronomy plans focused on maximising carbon sequestration within a specific field, over a four-year period.
The challenge will commence this autumn (2021) with an independent base line assessment of the Soil Carbon via detailed soil testing. Interim assessments, including biomass assessment above and below ground, will be undertaken during years two, three and four with Soil Carbon being assessed for a final time in Autumn 2025.
Downloadable Documents