European Corn Borer spotted in South West
Friday, August 26, 2011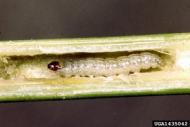 MGA member Tony Walkers has reported that European Corn Borer damage has been spotted in South Devon.
Destruction and burial of maize trash/stalks, particularly that resulting from grain maize harvest is recommended to limit overwintering sites for the larvae. Crop rotation and use of seed insecticides is also a good idea.
Further updates will be posted in the near future.
Downloadable Documents