Conference Invite Released!
Wednesday, December 18, 2019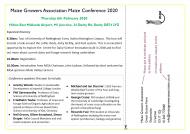 Our conference invites have been sent out to members, however if you have misplaced it or are a non-member, please open the attached invite and see what we've got planned! It's set to be an excellent conference this year and we have brought back the conference farm visit with an early walk around Nottingham University's dairy research centre.
Please contact Sarah in the office if you have any questions or would like to book!
info@maizegrowersassociation.co.uk
01363 775040
Downloadable Documents