Cold & Wet - Ideal conditions for maize??
Saturday, April 21, 2012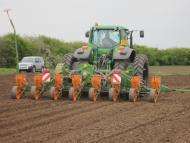 Simon Draper, MGA Agronomist gives MGA members some timely advice on what we should be doing to make the best of this difficult spring for drilling maize. After a lovely warm March, most of the Country is suffering from wet, cold conditions, not ideal for good maize growing. If you have already drilled, Simon talks about spray options available and if you haven't drilled he gives some useful advice on how to proceed now. The article can be accessed in the Agronomy section of the website.