2011 Status of Maize East Midlands - John Jackson
Thursday, August 25, 2011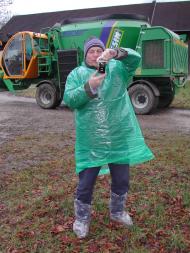 John Jackson, Manager of the Severn Trent Maize Fed Biogas Plant reviews local maize crops.
Two categories this year;
- Some very good big bio gas varieties- looking good on my high fertile sandy loam soils at Stoke Bardolph.Subsoiling has clearly helped and after an uneven germination has the making of a good to average crop.
-Maize on some sandy soils I rent germinated well but was slow to get going due to cold weather and winds-also dry conditions.Some crops were hit by sand blow that gave them a hair cut -which meant they had to grow new leaves!
Purpling was evident this year(Phosphate deficiency)- more than I have seen for a number of years-I think this problem was worse due to the dry and cold conditions.All in all I think it could be a very average year on this type of land but there are some people with very poor crops where soils structure was poor and no moisture has lead to very late germination.